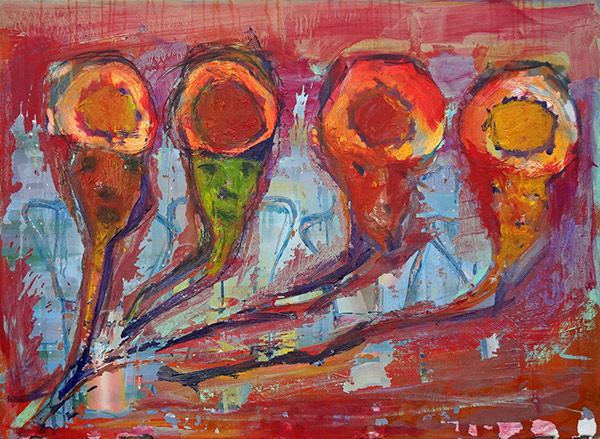 Leonard Kogan lives and works in Baltimore, MD. His exhibitions include "The After Light" at the Andy Warhol Factory in New York; "SUR/FACE/S" at Nexus Project Gallery in New York, Project Diversity" at Sputnik Gallery in Brooklyn, NY; "Wall flowers" at Herzliya Museum Israel and Museum Yanko-Dada Israel; and others. Leonard's work has been featured in literary and art magazines.
Leonard's works are painterly encounters of animated structures, bodies and organisms. In reemerging compositions, his works represent a fusion of ubiquitous, trivial, marginal, dislocated, shattered and displaced. The paintings are imbued with a conscious and subconscious, associative flashbacks, historical and social references. Coloristic spectrum shifts from impressionistic and melodramatic palette to lurid and psychedelic hues.
He says, "My works are images of perception; their content fluctuates between the visible and the invisible, the presence and absence. Themes that interest me are linked to synthesis of that which is ubiquitous, trivial, marginal, shattered and displaced. In my works I utilize eccentric and distress-evoking imagery and use overwhelming, multilayered, color-sumptuous brushstrokes. I employ dialogical transferences from one mode of representation to another. Associative references and flashbacks are convulsing simultaneously on the surface. The coloristic spectrum in my works ricochets from impressionist's lyrical palette to formless and lurid psychedelic blotches. My vocabulary cluster is enriched in personal and collective labyrinths and impressions. By employing impulsive and gestural approach, my works are condensed into energetic densities where forms and images push, usurp, assimilate and dominate by means of color, line and shape."
A crop of this painting is located on this issue's masthead.