Susanna Lang
Alice Neel
She has a brush in one hand, paint rag in the other.
Nothing else, not even clothes.
Yes, her breasts sag.
Her belly sits in her lap like a child.
But look at her right foot—
flexed, ready to go.
Leaning forward, chin raised,
eyes on the canvas.
Even though everyone's gone.
Left her with this body in its chair,
this body at night in bed,
in the empty room.
The work heals and heals
until it can't.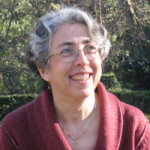 Susanna Lang's newest collection of poems, Tracing the Lines, was published in 2013 by the Brick Road Poetry Press. Her first collection, Even Now, was published in 2008 by The Backwaters Press, and a chapbook, Two by Two, was released in October 2011 from Finishing Line Press. She has published original poems and essays, and translations from the French, in such journals as Little Star, New Letters, The Sow's Ear Poetry Review, The Green Mountains Review, The Baltimore Review, Kalliope, Southern Poetry Review, World Literature Today, Chicago Review, New Directions, and Jubilat. Book publications include translations of Words in Stone and The Origin of Language, both by Yves Bonnefoy. She lives with her husband and son in Chicago, where she teaches in the Chicago Public Schools.