Travis Burnham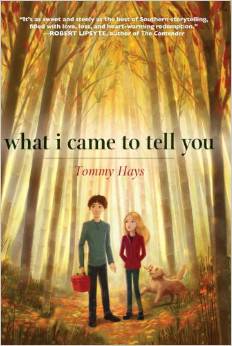 What I Came to Tell You, by Tommy Hays, is a gentle and bittersweet coming-of-age tale set in Asheville, North Carolina. Thomas Wolfe, the author of the classic Look Homeward, Angel, was born in Asheville, and figures heavily in the story. The two main characters, Grover and Sudie, are both named after Thomas Wolfe characters: Grover's father works at the Thomas Wolfe house—an actual Asheville landmark. Hays deftly weaves facts about Wolfe's life into the novel, making Wolfe's life integral to the plot.
What I Came to Tell You follows the trials and tribulations of Grover Johnston. In Grover, Hays has created an engaging and genuine boy on his way to becoming a young man searching for his place in the world. Grover has depth, and grapples with all of the big themes that we all must come to terms with, such as death and love, change and forgiveness. He stumbles and makes mistakes, experiences successes and failures, and we experience honest emotion with him along the way, truly caring about him by the end of the book.
Loss figures largely in the story. On the way to picking up a movie at the video store, Grover's mother is hit by a car when she chases the family dog, Biscuit, into the road.  Grover blames himself for his mother's death as it had been his responsibility to return the movie. Grover often fights with his father, feels guilty for his mother's death, or feels anger and betrayal at a God that would take his mother. At least a couple of times I had that tight feeling in my throat as I experienced Grover's emotions right along with him, and isn't that the true hallmark of good writing? You just have to feel for the kid as he fights with his father, who is also in pain over the loss of his wife.
The adults in What I Came to Tell You, are three-dimensional characters that ring true because they have their own foibles, and don't have all the answers. The father, for example, works too much, and destroys some of Grover's art, but is genuinely doing his best to be a loving parent while dealing with loss.
Grover also experiences first love in the character of Emma Lee, who is refreshingly, not the popular, in-crowd type, but a pretty and bookish girl who is a fan of Thomas Wolfe. Grover feels the stirrings of attraction when he accidentally sees her at her window in her nightgown. She, too, has suffered loss, as her father, a soldier, died in action.
The book is in some ways predictable. This isn't necessarily a bad thing when it comes to children's books, as young readers will most likely find comfort in these scenes. For example, one very creative and engaging aspect of Grover is that he is a young artist, weaving large tapestries of natural materials in a nearby bamboo grove that is being threatened by a developer. It was easy to guess early on that the grove would be spared from development because of Grover and his art, and this turns out to be the case.
What I Came to Tell You was chosen as a Fall 2013 Okra Pick by the Southern Independent Booksellers Alliance (SIBA), was selected for the 2014 SIBA Book Award Long List as well as for the American Booksellers 2014 ABC Best Books for Children Catalog. Tommy Hays is Executive Director of the Great Smokies Writing Program and Lecturer in the Master of Liberal Arts program at UNC Asheville. He teaches in the MFA Creative Writing Program at Murray State University. His online presence can be found at www.tommyhays.com.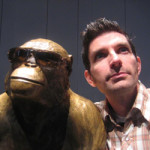 As with most writers, Travis Burnham has had heaps of jobs, such as: nuclear power plant custodian, project manager, laborer, dishwasher, carpenter, painter, convenience store cashier, office rat, photocopy jockey, etc. He has a BS in Biology from the University of Maine, Orono, and an MFA in Creative Writing from Converse College in Spartanburg, SC. He likes to travel, and has lived in Japan, Colombia and the CNMI, and traveled to many other countries. He lives and teaches in the Upstate of South Carolina with his wife, Chika.
* Disclosure: I received this book free from the author in exchange for my honest review and the opinions in this review are my own.