Kevin Brown
When Elton John came on in the restaurant,
you told us you once thought he was telling
Tony Danza, not a tiny dancer, to hold him closer.
It's a mondegreen, you explained, like
Jimi Hendrix's Excuse me while I kiss
this guy or The Beatles' She's got a
chicken to ride. It happens when
our ears miss syllables by milliseconds.
Everyone laughed, but me. I did not believe
you. Not about the mondegreen.
I had seen you lie for less
than other people's attention. I wondered
if this was worth worrying about or just
your taking a joke and turning it
into a first person account to make others
laugh toward you, so you could show
them what you know, in the end,
or if you had been talking about gloves
the entire time we were together.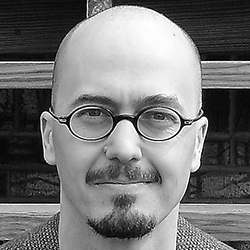 Kevin Brown is a Professor at Lee University. He has published three books of poetry: Liturgical Calendar: Poems (Wipf and Stock, 2014); A Lexicon of Lost Words (winner of the Violet Reed Haas Prize for Poetry, Snake Nation Press); and Exit Lines (Plain View Press, 2009). He also has a memoir, Another Way: Finding Faith, Then Finding It Again, and a book of scholarship, They Love to Tell the Stories: Five Contemporary Novelists Take on the Gospels. He received his MFA from Murray State University. You can find out more about him and his work at www.kevinbrownwrites.com.