Susan Vespoli
"I think we should take him to the vet," I say. This morning, my shadow is missing.
"Yes," John, my beloved non-believer-in-vets, agrees.
Chester, AKA Chet, looks like the result of a love affair between Yoda and a stack of carpet remnants. He is not your average terrier, more like a mixture of Einstein and Buddha. Although John adopted him more than ten years ago from the Humane Shelter where he worked as an equine therapist, this dog has been my constant companion for most of the past seven years because John travels a lot. After Chet was hit by two cars, the shelter's vets stitched him up, and as John made his rounds, he was drawn to this unusual canine. This dog didn't yap like the others, but rather sat silently in the center of his cell, an unclaimed Zen monk whom John eventually brought home.
###
"I want to go as soon as possible," John tells me.
"Okay," I say, chewing my toast even more slowly, that old song playing through my head …nowhere to run, no place to hide. I consider fleeing on my bike to the canals. "Wanna go?" I ask John who looks at me like I'm planning to blow up a building.
"No!" he answers, his eyebrows pushing downward.
###
"I'm gonna sit in the backseat with him," I say, climbing into John's Ford Edge and buckling myself in. Chet is lying on the folded-down portion of the backseat, but moves toward me, settling against my outer thigh.
John's voice has dropped an octave and his eyes are cool blue stones in the rearview mirror as he steers down Cactus Road, "He didn't even get up when I put the leash on him. Stayed in his frog position."
I don't respond, just look out the window, keep my hand on the wavy gray, brown, and tan tufts on his still back until he rises from my leg and moves away, his torso contracting to expel shallow pools of yellow foam.
"He's throwing up!" I say.
"What do you want me to do? Pull over?" John sounds angry.
"No, I'm just telling you."
"Don't let him walk in it."
"I'm not!" I pet him, whispering, "It's okay, it's okay."
Eventually, Chet empties himself, returns to my leg and I cover him with my palm. John spots a QT, pulls over and gets out. He opens the back door closest to the vomit, grabs a handful of paper towels and starts to mop it up, gagging and muttering to himself outside the car.
"Just sit there," I think I hear him hiss half under his breath.
"What did you say?" I snap.
"Nothing," he replies.
"I'm sitting with him!" I defend my inaction.
"Sit with him," John is upset. He continues to clean up the mess, intermittently bending over outside the car with dry heaves.
"Just let me do it," I say.
"No!" He wipes and grimaces, grabbing the windshield washing tool from its murky basin.  He rakes the blade over the wet spots as I wonder how this will impact subsequent motorists' windshields.
###
Although our dog can barely walk this morning, he staggers toward a German Shepherd puppy in the waiting room. Chester has always been social ambassador for the good, stopping outside fenced and barking dogs to offer salutations. He even tried to befriend Astra the wolf who lived next door to us in Ponderosa, slipped from our yard to hers where she was chained. When we heard his yelps, saw her teeth in his back, tossing him into the air above her head, John ran over with his size-13 boots and kicked him free.
###
We are led to a stainless steel table where Chet is placed. The vet is white haired and wiry, works from his office in South Phoenix, a neighborhood where chickens run across side streets and piñatas hang from the awnings of grocery stores that sell cow heads and menudo. The doctor says after examining him and listening to us list symptoms, "He's getting old, just like us."
Chet has lost more than five pounds. His blood test shows kidney failure with numbers so bad their machine can't register some of his results.
"We could hospitalize him, try to get him stabilized, try dialysis, keep him on medication, but he's never going to have much quality of life at this point. Without intervention, he might last a week."
"No," we both shake our heads.
###
Once when John and I were broken up, I dreamed of searching for Chet beneath sofas, reaching my arm into the darkness for his warmth and fur. Tonight I will dream of his body laid out on a bus stop bench.
When I call my daughter with the bad news, she will tell me she dreamed of him the night before, "He was running around Fry's, up and down the aisles, and you were chasing him."
###
As we wait for the vet and his gentle Latina assistant to return with the needle that will release Chester from suffering, we take turns petting him. "You are the best dog," I say over and over.
He nuzzles his snout into the cave of John's armpit, and then mine, trying to hide or enter us. He looks at John with eyes a duller black than usual, his plum nose crusty. John places one large hand on either side of Chet's body, like a Namaste, a prayer, and says, "My dear, dear friend," several times, kissing the top of his head.
I wrap my arms around what used to feel like the fire hydrant of a torso, now slender and ridged with ribs, saying, "It'll be okay, it'll be okay." I do not want him to be frightened like I am.
The needle pricks a fleshy space between his paws and he lets out a small whimper. I had never noticed before what a sunburst of multi-colored hairs surrounded his right eye. This morning they are remarkable, fine and straight like the center of a peacock feather. I watch as his backlit black eye becomes the button on an empty coat, left on a bed by a party guest, his form a two-dimensional childhood drawing of a stick animal.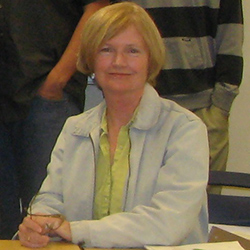 Susan Vespoli received her MFA from Antioch University, is an avid yet mediocre bicyclist, and teaches at a community college where she pushes writing composition on her students like a religion. Her poetry and prose have been published in a variety of spots, and her chapbook Road Trip will be published by Dancing Girl Press in 2015.