William Aarnes
The Absolute not something
she believes in
but still hopes for Saturday mornings
when she goes online
to find the flawless house plan,
one without a three-car garage
but with a roomy foyer,
one with a screened porch in back
and a study with a fireplace,
one with a master bedroom
that doesn't have gendered closets,
a place she can't imagine affording
but one with a hallway long enough
that it can serve as a gallery,
one with the kitchen counters
and island so arranged
that it's an absolute impossibility
for one spouse to wound the other.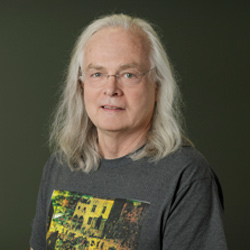 William Aarnes teaches at Furman Universtiy and lives in Clemson, South Carolina, Childwold, New York, and Manhattan. He has published two collections, Learning to Dance (1991) and Predicaments (2001), both with Ninety-Six Press. Recent work has appeared in Tendril and FIELD.