Who was Tangerine? And what kind of name is that?  It could be a stripper name.  Or maybe it's Robert Plant's version of "honey" or "baby."  It was his secret little name for his lover.  Imagine a woman full bodied and in a dress.  She is wearing a crown.  She is laughing with bright red lips stained from wine.  She doesn't wear makeup.  She is beautiful as is.
You can be Tangerine. Are you his queen? Dan's queen? Is this how being a queen feels? You'll remember times like these. Will you love him in fifty years? You might silently bet Chris loves Tangerine. You want him so much. You know he wouldn't have made it feel like this. Was that another Tolkien reference? Dan will prop himself up to make eye contact but you will feel repulsed as his sweat pours onto your cheek.  Your left hip bone will probably be numb.
but now a thousand years between…
Why did you even go there? You are so stupid. Why did you do it? Why didn't you wait? He's so fucking heavy. Why do people do this? He might be shivering. You'll think he's a  fucking asshole.
"I think I'm gonna cum. Okay?"  He'll ask.  They always do.
"Sure." What could you say?  No?  Wait? It feels so terrible let's keep going? You will wish he had asked a minute and half earlier.  Sure. Go. Finish.
And then he will collapse on you. Dead weight.  He is an offensive tackle, so needless to say, he's heavy.  You will barely be able to breathe.  I'm sorry to tell you this, but you will probably have to do it again.  You can't just do it once.  They don't like that.   You are obligated for a night of 'first time' go-at-its.
He will kiss your neck.  It's really no wonder Tangerine left.  This will be awful.  You won't want to be his queen.  You most likely will dry heave at this point.  He'll roll off you and you can have a moment to turn over and face the wall. The frat boys will slam their fists against the door and make moaning sounds.  Dan will laugh, put his pants on, then his belt and leave the room.  He will be greeted like the king he is.
"Get in, bro?"
"Yeah, bro, that's the way!"
"Fuck, yes, dude!"
Dating you turned a frog to a prince. Fucking you will make him a king.  You curl into the fetal position on his mattress.
"You okay?"  He probably won't ask this, but if he comes back into the room he might.
"Can you start this side over?"  You will nod toward the record player with tears in your eyes.
"Yeah. You look really out of it, you okay?"
"Sure."  Go ahead, baby, roll back over.
I don't know how I'm going to tell you,
I can't play with you no more.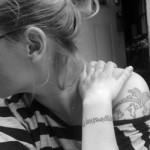 Jacqueline Kirkpatrick is currently in the MFA in Creative Writing program at the College of Saint Rose in upstate New York. She has been previously published in The Chronogram, Nailed, Mason's Road,and Empty Mirrors.