Ellie Rodgers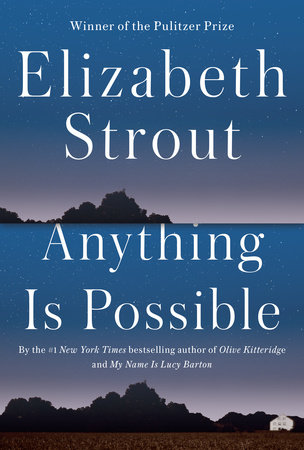 Anything Is Possible, Elizabeth Strout's quietly brilliant new story collection, confronts childhood scars etched by poverty, abuse and shame, and how they remain embedded in our souls, affecting relationships and often guiding the trajectory of our lives. Yet there are glimmers of possibility. Small moments of human connection and tenderness lift her characters out of darkness, even if just for a time, because we really do need one another to survive.
In nine gorgeous stories, Strout explores dark currents coursing through the small farming community of  Amgash, Illinois. Families have lived there for decades, and the town "talked and talked" about affairs, the people affected by mental illness and often about Lucy Barton, who escaped her strange and abusive family long ago. Lucy now lives in New York City as a successful writer but haunts the town's collective consciousness, especially as her new memoir appears in the local bookstore.
We first met Lucy in Strout's 2016 best selling novel, My Name is Lucy Barton, in which her estranged mother comes to Lucy's side during a long hospital stay. She and her mother fumble through an uneasy reconciliation by reminiscing about people in Amgash, some of whom Strout brings more fully to life in Anything Is Possible.
Strout introduces characters who knew Lucy growing up, watching as she suffered at the hands of abusive parents, ate from dumpsters to avoid starving and hid out after school in classrooms to stay warm, study and avoid going home.
The stories are reminiscent of Strout's 2009 Pulitzer Prize-winning Olive Kitteridge, in how they orbit around Lucy and provide multiple points of view that allow us to more fully understand her, as well as some of the other characters. Like Olive, who is a unifying force but not always a main character, Lucy is the beating heart, drifting in and out of characters' minds as they struggle with their own demons of betrayal, heartbreak, loneliness, and aging.
There are the Pretty Nicely girls, Patty and Linda, whom Lucy and her mother chatted about in My Name is Lucy Barton. In "Windmills," the second story in Anything Is Possible, Patty is a lonely widow struggling with her weight and the burden of caring for her mother. She works as a high school guidance counselor and has a troubling encounter with Lucy's niece, who tells Patty students call her "fatty Patty" and mock her chaste relationship with her husband, who was molested as a child.
Like many of the characters in Anything Is Possible, Patty is affected by Lucy's success and how the town had treated her family:
"In Lucy Barton's memoir, Lucy wrote how people were always looking to feel superior to someone else, and Patty thought this was true. … she realized that Lucy Barton's book had understood her. … Lucy Barton had her own shame; oh boy did she have her own shame. And she had risen right straight out of it."
Patty also pines for Charlie Macauley, a married, PTSD-stricken Vietnam vet who appears in several stories and is in love with a prostitute, a liaison that leads to the end of his marriage. And Patty's sister Linda has her own story as well, in "Cracked," as the wife of a wealthy pervert who spies on women in their guest room via webcam.
In "Snow Blind," Annie Appleby and her siblings deal with their father's dementia and subsequent disclosure of his longtime gay love affair. And they discuss a disclosure of incest within a friend's family. Annie laments how "They had grown up on shame; it was a nutrient of their soil."
In "The Sign," the book's opening story, we meet Tommy Guptill, who became a school janitor after his dairy farm burned to the ground, resulting in a decades-old secret he's never shared with his wife. Now retired and an old man, Tommy drives past Lucy's mother's old "Sewing and Alterations" sign marking a road to the Barton home. It sparks memories of Lucy, whom he encountered for many years in empty classrooms after school let out. Of all the children he knew over the years, he remembers how Lucy troubled him the most and how viciously the other students and some teachers scorned Lucy and her siblings.
Tommy still feels guilty for seeing Lucy's bruises, discussing it with his wife and doing nothing. But he finds some solace in remembering the day in Lucy's senior year when she threw her arms around him and said she was going to college, which was her ticket out of Amgash.
"He always remembered that hug, because she had been so thin; he could feel her bones and her small breasts, and because he wondered later how much—and how little—that girl had ever been hugged."
Tommy decides to check on Lucy's brother Pete Barton, which he does from time to time. Pete is an older man now, a recluse who has remained in the Barton home after both parents passed. Tommy and Pete argue over Ken Barton, Pete and Lucy's father, a cruel and disturbed man who repaired machinery on Tommy's farm. Tommy had discovered Ken behind a barn "with his pants around his ankles, pulling on himself, swearing …" and Pete believes Tommy only visits to torture him about his (Pete's) father who he believes was responsible for the fire that destroyed Tommy's farm. He asks Tommy to stop coming and they argue, both men finally opening their hearts. Pete shares his father's PTSD and Tommy reveals his secret to Pete and later to his wife.
Such small but life-changing encounters that run through the book are why Strout is such an important writer. Her gorgeous, heart-breaking sentences can be breathtaking in their beauty and observation of the natural world. But they also teach us empathically about the frailty of human nature; the universal truths of keeping secrets in marriage and families, and how in crisis we reveal pieces of ourselves that move us to know and love one another.
In "Sister," Lucy visits Chicago for a book signing and returns to Amgash to visit Pete. In his threadbare, filthy home that he's scrubbed clean for Lucy, their resentful sister Vicky appears, and they recall pieces of their troubled childhood. This triggers an anxiety attack for Lucy, causing her to flee, both of them tenderly following behind her rental car on the highway to ensure she makes it, even as they know she's leaving them again.
Throughout the book, such painful encounters and revelations are transformative. And the still-fragile Lucy reminds Amgash, through her success in spite of her family and perhaps because of it, anything is possible.

Ellie Rodgers is a former journalist who received an MFA in fiction from Converse College in 2016. When she's not making trouble for her characters, she writes nonfiction for Territory magazine. Her work has also been published in Night Owl. She lives in Idaho with her husband and two basset hounds.