John Newlin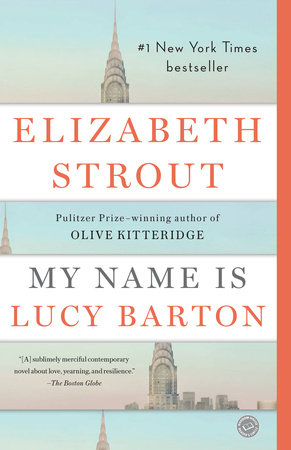 Elizabeth Strout surged to the forefront of American novelists with her Pulitzer Prize winning novel, Olive Kitteridge.  Much anticipated, her most recent work, My Name is Lucy Barton, continues in Strout's tradition of writing highly introspective, emotionally charged prose.  Do we choose to forgive those who have hurt us, to seek forgiveness from those whom we may have injured?  Beautifully crafted, the novel attempts to show the universality of the experience of being both child and parent.
There are elements of the autobiographical here:  Lucy Barton is a writer, and though her childhood was spent in the Midwest, one recalls Strout's own background of having been raised in rural New England, mostly isolated from other children, as are central characters of her earlier novels.  Both, in their adult years, adopted New York City as their second homes (though Strout still maintains another home in Maine).
There the parallels fade: Lucy's family lived in poverty, she was abused as a child, at times feeling remote from her mother who never had the strength to intervene when her father became abusive.  And, unlike the author who was never poor, Lucy was made to feel shame for her poverty: "Vicky (her sister) and I understood we were different.  We were told on the playground by other children, 'Your family stinks'…(and) my sister was told by her second-grade teacher, in front of the class—that being poor was no excuse for having dirt behind the ears, no one was too poor to buy a bar of soap."
Strout grew up surrounded by books and learning; Lucy has had to glean whatever she can about things literary in spite of her circumstances.  Lucy recalls reading about Tilly, who was strange and unattractive (and interesting enough to write about), of sneaking away to read and becoming fascinated with writing in the process.    Rather than go home, Lucy would spend late afternoons and evenings doing her homework in her school classroom: "I remained alone in classroom, warm,…And when my homework was finished, I read—until I finally had to leave."  Ultimately, it was reading that book about Tilly that made her want to write a book of her own.
As in all of Strout's novels, there are hidden things her protagonists struggle to discover about themselves, and finally address.  Clear from the outset is Lucy's enduring affection for her mother: "Her being there, using my pet name (Wizzle) which I had not heard in ages, made me feel warm and liquid-filled…."  What is less clear is the nature of the things that happened involving her father, and her mother's tendency to ignore them.  Does one forgive one's parent for that?  Such is the process of Lucy's journey toward self-discovery.
Strout's use of the first person point of view is daring and dangerous.  When she wrote Olive Kittreridge, she adapted at least one of her earlier stories, "Criminal," from the first person to the third, in the main because she wanted her readers to see Olive revealed just as much by the ways others perceived her as by her own thoughts.  In Lucy, she allows her main character to tell the story, thus forcing the reader to experience the odyssey of Lucy, through the fog of her repressed memory, through snippets of dialogue, through re-created moments of her past.  This point of view works because this is Lucy Barton's story, and Strout succeeds in taking the reader through Lucy's process of self-discovery.
Lucy has been hospitalized with a serious, non-fatal illness, and her extended stay in the hospital provides her with time to reflect.  It's a time during which she realizes her marriage is falling apart.  While in hospital, Lucy is visited by her mother, and this visit gives Lucy permission to dredge out things about her past—the abuse of her father and her mother's inability to come to terms with what was happening to her daughter—though these revelations are never discussed between mother and daughter.
It's a novel about reconciliation, if not verbalized nevertheless understood.  If Lucy and her mother are still unable to discuss the matters of the heart with one another, they eventually succeed in bonding in a tacit way, one that leaves Lucy satisfied.  "My mother told me in the hospital that day that I was not like my brother and sister: 'Look at your life right now.  You just went ahead and…did it.'"
Strout's perception of life, as articulated by Lucy's daughter, Becka, is on the mark: "'Mom, when you write a novel you get to rewrite it, but when you live with someone for twenty years, that is the novel, and you can never write that novel with anyone again!'" Strout suggests we all see ourselves as both children and parents, that we cannot change what has happened to us, and we don't get "do-overs" as parents, opportunities Lucy wishes she'd had and comes to realize her mother regrets as well. These are painful realities of life.  Great writers like Elizabeth Strout remind us, in unsentimental terms, of such truths.
As Lucy says, "What I mean is, this is not just a woman's story.  It's what happens to a lot of us, if we are lucky enough to hear that detail and pay attention to it."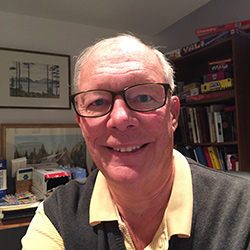 John Newlin will graduate with an MFA in Fiction Writing from Converse College in January of 2017.  He earned his BA in English from Springfield College and his MSEd from the University of Pennsylvania. A long-time English teacher and administrator, his writing has appeared in Independent School and Night Owl.  He lives in Wilmington, Delaware, with his wife Dodo, where he is a free lance writer.