Charlene Langfur
One of a kind is what kind of day it is today. The white
tailed rabbits are running in a patch of green grass looking
for more. The roadrunners cajole and bound about. Everything
looks better and clearer. The Mexican heather is covered with
purple flowers, pink roses in full bud on the bush in back
of my place, it feels like a time of flowering even when it is
not. By noon the dessert sun will burn through anything in
sight. Nobody seems right then. Only shade matters. A roof
to protect. Water counts most. A hat. A cover-up. Now, in the
sudden coolness, the world has a shine to it. A long walk over the
sand and dirt path out back makes sense. The land has a glow to
it again, the ravens are talking a blue streak in the date palms,
messages of hope and whatever else, warnings, gossip, the coolness
brings us all together, in the shadows and darkness of early morning,
light coming on, lightness coming on for young and old, animals
and people. We are basking in it, throwing caution to the slight
wind, making a move while we can.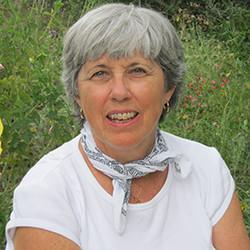 Charlene Langfur is a southern Californian, an organic gardener, and a Syracuse University Graduate Writing Fellow. Her writing has appeared in The Stone Canoe, The Adirondack Review, and The Hampden Sydney Poetry Review.  It most currently appeared in Spoon River Poetry Anthology, The Buddhist Poetry Review, Earth's Daughter, Pinyon, Poetry East, and Weber-The Contemporary West.