Shiv Dutta
I had just finished babysitting my grandson when there was a knock on the door.
"Hello, Doc, how was the day?" I said to Millie, my only child, as she walked in.
"Good. Was Kaushik good to his grandpa?"
"Sure, Kaushik is always good to his grandpa."
I had moved from Austin to San Mateo for three months on Millie's request to take care of Kaushik at the end of her maternity leave. My wife had passed away three years before.
Now that Millie was home, I was about to head back to my apartment on the third floor. Though we spoke in whispers, Kaushik sensed his mother was home and started to whimper. I felt a twitch in my heart and made a move to pick him up as I often did when Millie was Kaushik's age.
"Don't," Millie sounded firm.
"You don't want to torture the poor child, do you?" I said in jest.
Millie's face turned red. "Are you saying we don't know how to raise our child?"
I blankly looked at Amit, my son-in-law, who had joined Millie.
"I certainly didn't mean that."
"Then, what did you mean?"
"I didn't mean anything, Millie."
"I hope not because it'd be funny if you did," she said with a smirk.
Her scornful face reminded me of her early years. She was a stubborn child and always had to have her way. If she didn't, she raced up the stairs stomping into her room and kept stomping so hard the house shook, and the glass-framed photographs on the walls shook as well.
"Do you remember how you used to strike me and leave me crying in my room?"
Her continued stomping used to drive me so crazy I'd pull her hair and slap her on her behind. She wouldn't resist. With tears streaming down her face, she'd grit her teeth and glare at me.
As arguments continued, I raised my hand to make a point.
Amit suddenly screamed, "Get the fuck out of here right now before I throw you out," his face red and sweaty, his hand ready to strike me.
I faced him squarely.
"Repeat what you just said, and I'll walk out of here forever."
He didn't.
"I thought you were going to hit her," he said.
"See you later," I said to Millie as I opened the door and tottered into the hallway.
Back in my apartment, I slumped on the sofa, staring at the TV.
In the evening, the phone rang. It was Millie.
"Can we come up?"
"Sure."
Could they be sorry and want to apologize?
In a few minutes, Millie and Amit were at the door. Millie put Kaushik, asleep in his baby carriage, in the bathroom and pulled the door shut. Was she preparing for another round of loud arguments? I welcomed them with a smile as if the storm that had passed between us was a figment of my imagination. They sat down on the loveseat, glanced at each other and then turned toward me.
Amit, expressionless, looked straight into my eyes and said, "We've decided we wouldn't need you to take care of Kaushik anymore."
I found myself speechless.
After a minute or so of awkward silence, they abruptly got up, retrieved Kaushik from the bathroom and left.
Though our apartments were three floors apart, emails became our only way of communication. My phone calls to Millie always landed on her answering machine. I had to make appointments to spend time with Kaushik, and only for a few hurried minutes. On the rare occasions she and I met, our conversations were painfully banal.
"How are things?" I asked.
"Good."
"How's Amit?"
"Fine."
"How's your work?"
"Same as always."
I wanted to head back to Austin but feared rupturing whatever wispy sliver of father-daughter bond was left.
I remained in San Mateo for the three months we had originally planned. Early one morning, I emptied my apartment of my belongings into the trunk of my car and left.
I remember what I did to punish Millie, and I also remember the baton my parents used on my knee joints whenever I was disrespectful or disobedient toward my elders. I too held anger toward my parents for a long time.
Kaushik is eight now. Millie calls me once in a while for ten minutes or so. I do get to talk with my grandson, but the time passes swiftly. Most of what I want to say remains unsaid.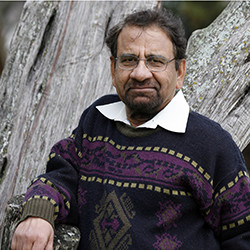 Shiv Dutta's publications have appeared or will appear in Under the Sun, Tin House, River & South Review, The Evansville Review, Green Hills Literary Lantern, Hippocampus Magazine, Eclectica Magazine, Epiphany, The Evergreen Review, Silk Road Review, Pilgrimage, Front Porch, and other journals. He has also produced 45 technical papers and two technical books. One of his personal essays was nominated for Pushcart Prize.