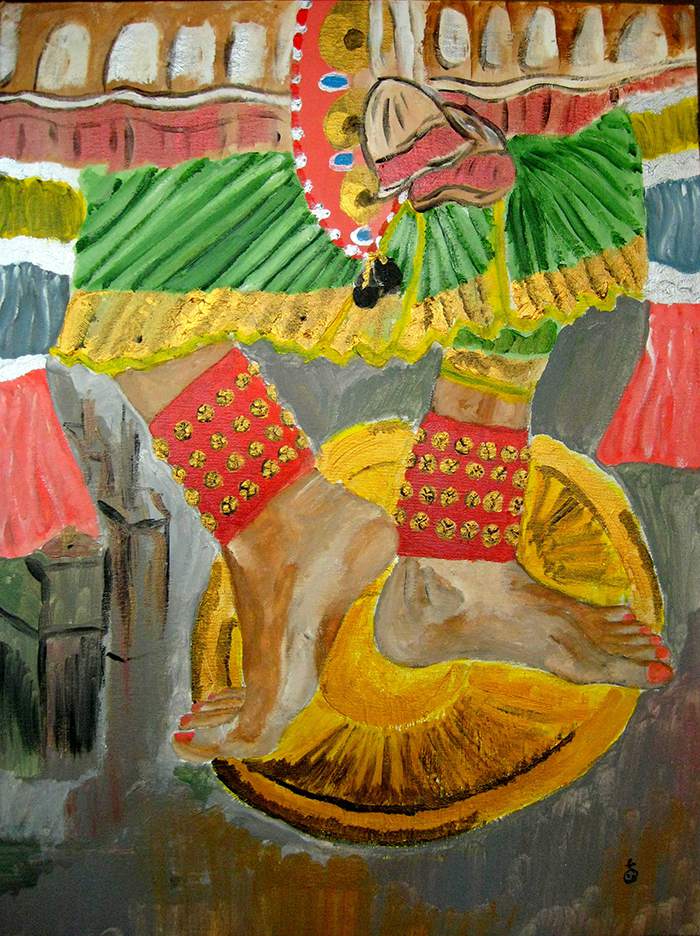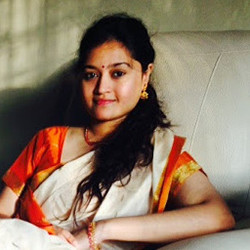 Priyadarshini Komala is a painter based in Washington, D.C. Her work portrays Indian Identity, nature, self-reflection, science and womanhood. Ms. Komala has shown her works at several art galleries in Washington, D.C., including the prestigious District of Columbia Arts Center and at the Maryland Federation of Art gallery, and has been featured in distinguished magazines and journals such as The Healing Muse, the annual journal of literary and visual art published by SUNY Upstate Medical University. View her other works at www.darshinimusings.com or http://bit.ly/PriyadarshiniKomala.
Muva (The Anklets), 24" x 18", Acrylic on Canvas – Indian classical dances are a gateway to the tradition and culture of various regions. Bharatanatyam (nurtured in the state of Tamil Nadu), Kuchupudi (originated in Andhra Pradesh), Yakshagana (theater form in Karnataka), Kathakali (emerged in Kerala) are South India's classical dance forms and ancient Indian treatise which are very distinct in their own style. In the various dance forms, the feet play a quintessential role to provide support and grace to the moves of a dancer. Complementing and acknowledging the thud of the feet are the anklets and the miniature bells clinging on to the shins.
A crop of this painting is located on this issue's artwork page.