Emily Wilson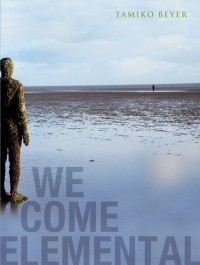 Tamiko Beyer was born and lived for ten years in Tokyo, Japan, before moving to the United States where she received her B.A. from Fairhaven College at Western University and her M.F.A. from Washington University in St. Louis. Presently, she lives in Cambridge and has received fellowships and grants from Kundiman, the Astraea Lesbian Writers Fund, Olin and a Chancellor's Fellowship. Beyer's We Come Elemental, published in May, discusses the intricate connection between the human body and the earth as well as the correlation between nature and queerness. In a literary world dominated by interpersonal poetry, this collection serves as a refreshing analysis of the deep-rooted human connection to nature, a call to understand the widespread disrespect of our earthen essence, and a demand for readers to rethink their notion of queer.
Beyer's talent is showcased in the variety of style throughout this single collection. From beautifully lyrical poems, to whimsical, thought-provoking word play, from destination prose to indirectly direct poems, this collection is a trip through Beyer's repertoire as a unique poet and person by way of the earthen areas that clearly had their own impact on her life. The collection is divided into three sections: "Body Geographies," "Dear Disappearing" and "Tenacious as Salt," each diverse in form and content.
The title, We Come Elemental, comes from the namesake poem in the preliminary section. The poem discusses humanity and nature at its very essence: the nitrogen, oxygen and hydrogen that make up bodies and the landscape in which the human species makes a home. The most notable poems in the first section connect the human body to bodies of water, or water in general. The introductory poem, "Look Alive, Dark Side," discusses the discovery of water on the moon. In my opinion, the most stunning line of the poem reads, "Nothing like a tall glass of mooncold" (2). Our bodies thrive on water, without it we would die in a matter of days. In equating the moon water to a tall glass of its earthly counterpart, Beyer drives the message home – we are water: not only of this earth, but also of the moon, of the universe.
Beyer also connects water to not just humans but human sexuality. The poem, "Water West," subsection, "Diablo," reads, "Devil blue water I want to dip my / blister body into, my ragged skin into your perfect wet" (5). Beyer finds a way to tie in not only our humanity but also our sexuality to the bodies of water around the globe. Through her talented handle on poetics, Beyer is able to make these poems highly sensual without direct mention to sex. Many of the poems in this first section deal with word-play as well, and provide a thought-provoking while aesthetically pleasing look into Beyer's discussion of the earth and wildlife.
The second section, "Dear Disappearing," is comprised of a single, nineteen-page poem. This section discusses, among other things, the disappearance of the origin or natural earth and water. With use of varying poetic styles and double colons (::) to break ideas, Beyer keeps the reader wholly engaged in this piece. She discusses the devastation of an oil spill, "Don't mind / the pictures :: feathers oil-soaked. We'll always suffer / the right time for a lotion-covered tissue" (44-45). Beyer tastefully mocks our current society and its need for products that end up harming the wildlife and ecology around us. She also calls attention to our over-exploitation of the earth, suggesting that we know our actions are harmful, yet we still continue, "Greedy our fingers thorn-scarred and still hungry" (47). Perhaps my favorite portion of this Dear Disappearing section is on page 49,
See everyone behaves or seems to
like "it's not their problem."
I have to admit infuriation. What's this I'm breathing?

But here. Body, our bright, metered field.
Drape me
in barnacles and salt :: watch me turn marvelous.
This passage, like others, brings our humanity into perspective – makes our species feel ridiculous for destroying that which gives us life. The final line of this section speaks to Beyer's close relationship with the sea and with the environment as it reads, "Hush / and we listen to that gorgeous / chest heartbeating ocean" (54). Throughout this section, I felt particularly moved by Beyer's discussion of our destruction of the earth. She has used her poetic talent powerfully to create feelings of longing in the reader to cease the destruction of what we, as humans, are made from.
The final section, entitled "Tenacious as Salt" delves deeper into the human, and more specifically female connection to the earth. Beyer uses such phrasing as, "There are so many words that might define / the way we course over terrain of water, weather / skin, and bed sheet." (59), to make the distinction between nature and human nonexistent, to make it one seamless, continuous entity. She also addresses her own female sexuality and ties the idea of queer with nature in "Continuity" which reads,
…And so gender becomes
an object. You want a looseness that makes me
nervous. I want to become the woman your parents
never dreamed for you… (62)
The section then takes a turn toward destruction again, pointing out our limited resources in the poem, "Shutoff" on page 65. I found myself charged by the end of this section, fired up and agitated by the mess that we have made not only of our earth but also of members of our own species. Beyer uses her personal experience and powerful poetics to conjure up a deep-rooted passion in her readers to return to earth, to return home.
I am young and I am hungry for poetry. I am passionate about the conservation of our earth along with many of my fellow Millennials. We care about our planet, and we care about our art. We care about equality and fair treatment with no prejudice of gender, of race, of sexual orientation. We fight for humane treatment of inhuman animals and work toward restoring order to natural areas that our ancestors have destroyed. Beyer does not simply speak to the passions of the young generation. She extends her influence to any reader who has the slightest tie to a place, a river, some natural area from their past. Through her own recount, she conjures memories in her reader, nostalgia for the paradise lost, a reminder of our destruction, both natural and in our very humanity. We Come Elemental has satisfied my hunger for natural poetry, my hunger for action, my hunger for acknowledgement of the inequality. Tamiko Beyer is a talented poet, and We Come Elemental is a truly profound and highly relevant collection.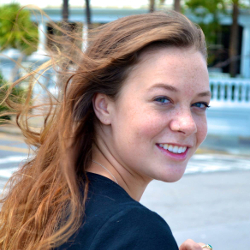 Emily Wilson is a sophomore at the College of Charleston. She is an English Major with a concentration in creative writing, poetry emphasis. She received her high school education from Country Day School of the Sacred Heart in Bryn Mawr, PA where, upon graduation, she was presented with the Linda L. Robinson Creative Writing Award.