Melissa Sherrer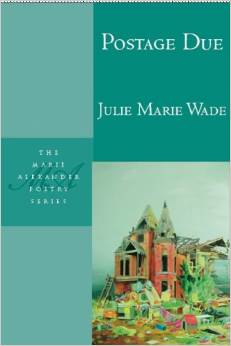 In Julie Marie Wade's 2010 Marie Alexander Poetry Series winning collection Postage Due, Wade explores her past and present in a wonderfully variant compilation of poetry, prose and image. Postage Due, which reads like unearthed shoebox letters from times past, is personal, visceral and paramount to the diversity of poetic genre. Like other collections of Wade's work, Postage Due is wildly concerned with identity. However, the author has departed from and expanded the concept of identity in her writing with the addition of surreal correspondence as or with other people during significant moments in the speaker's past. Postage Due is both memoir and manual as the reader is challenged to exist in many places and times at once throughout the causal past, and the effecting present.
The book begins with a message written on a postcard, rather than providing the postcard's picture, Wade presents the postcard's text including the title of the depiction presumably on the flip side of the postcard. The appearance of the postcard as a type of structured poem reoccurs throughout the collection, in conjunction with less structured poems and letters written in prose. Though the postcards and letters are dated, they are not chronological and provide a looping effect that is representative of the back and forth passage of time for the sake of personal discovery in Postage Due.
Passages that invoke feeling in Postage Due are not limited to emotion. Wade also creates splendid somatic images. This imagery reminds the reader that these postcards may exist in surreal space, but the memories, and influences that coincide with them exist in a very real past. For example, a poem which appears in the second section of the book entitled "Lent," questions desire, religion and the capability to indulge in both. Wade concludes the poem with an invocation of, "that soothing feeling as the bathtub faucet passes over your smallest toes." Lines like these are pillars of physical imagery, and have a grounding effect in poems that seem to have no real physical space in which to exist. Furthermore, these images encounter the complexity of sexual discovery that is certainly a theme. In her poem "Arthur Dimmesdale, Alone in the Closet with a Bloody Scourge," Wade describes a budding, sexual fascination with women as a realization of, "damp armpits sprouting with hairs, ankle-bones, shoulder-bones bewitching." Here, the author invites the reader to interpret the female body much like time and memory in the book, as parts of a whole.
The difficulty with Wade's work in Postage Due is the fine line between perception and pretense. In a letter titled, "My Mother Attempts to Procure Me a Prom Date through the JCPenney Catalog," she writes, "She's only sixteen but quite mature for her age- & very, very accomplished. She has played piano for eight years & taken ballet, tap & Jazz for twelve. She also makes straight A's in school & is varsity runner for the Holy Names cross country team." Though this letter is convincing enough as a letter her mother has written to procure a JC Penny's model as a date for Julie's junior prom, the matter-of-fact descriptions of young Julie's accolades catapults the reader into less figurative interpretation, which is less accepting of self-praise. It can be difficult as a reader to untangle the mother's perception of her daughter and the speaker's perception of herself. This is not to say that these poems and letters are not intended to do both.
In addition to a fearless exploration of self through many stages of sexuality and self-awareness, Wade also has little fear of the rhythmic prejudice that has defined much of contemporary poetry. She includes sudden structured rhymes in her poems which most often evolve unexpectedly and which contribute moments of pause to her explorative prose.
When I said it then, I meant to lie;
I meant to lie & singe my mother's eyes.
But what if no one could, & what if no one would
ever think of asking for my hand in marriage?
(Excerpt from: "This Thing I Want, I Know Not What")
This is the true delight of Wade's effort. At times, Postage Due could seem self-serving or even bordering on pompous if not for the homage paid to the foundational beauty of poetic language embarked upon alongside the fluidity of her prose. In this collection, Julie Marie Wade has opened the portal to the past and in turn, demystified the present. This book is a necessary read for lovers of contemporary poetry and memoir, and is a crucial intersection of the genres.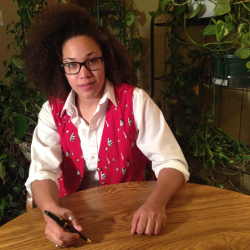 Mel Sherrer lives and writes in Powhatan, Virginia. She graduated with her Bachelor's in English from Hollins University in 2013, and is currently studying in the Low-Residency MFA program at Converse College. When she is not writing, she is working full time and attempting to make the world a more habitable place.