Richard LeBlond
It has been said that quitting heroin is easier than quitting tobacco. If that is true, then as an ex-smoker I can say that giving up either is a piece of cake compared to the addiction of the publishing junkie. After the rush of that first acceptance, there is no turning back.
My dealer is a website that opens its tweed coat (with leather elbow patches) to reveal a list pinned to the silk lining. It is a list of literary journals and magazines currently seeking submissions of poems, short stories, and creative nonfiction.
In the beginning, my dealer was a website that lists its wares alphabetically. I soon realized I would die long before I got to the journal ZYZZYVA, or the journal itself would be dead. The founders of ZYZZYVA must have known they'd end up at the bottom of alphabetized lists, willing to paint themselves into the darkest corner because they didn't want to hear from writers who go through lists alphabetically.
Then I discovered the "calls for submission" websites, and my addiction became hard-wired. Here were journals with open submission periods fresh off the boat from Columbia, or tunneled in from Mexico.
Do I have something they might be interested in? I read the editor's credo or gibberish. I'm an essayist, so I head for the creative nonfiction. This is where I am usually thwarted. Most creative nonfiction in literary journals is what is referred to as narrative nonfiction. It would be mistaken for fiction were it not for the label. That's not how I write. But I do employ tiny bits of fiction to avoid beatings and lawsuits. I suspect a lot of what passes for fiction is memoir in a witness protection program.
(Storyscape Journal mission statement on the need to declare whether something is fiction or true: "it totally matters if it's true or invented, because I need to know if I should run around screaming based on the information you gave me or just imagine myself running around screaming.")
Essays are the stepchild of most literary journals, trailing behind the beloved poems, short stories, and fictioniferous narrative nonfiction. It is a generous journal that allows space for an essay or two. Inspired invention has priority over inspired observation, with narrative nonfiction somewhere in between.
I wade through the website list one by one, looking for connection and suitability. The submission itself is anything but submissive. It is exposure, the thrill of risk, all or nothing. The numerous rejections intensify the few acceptances, and keep in check the excesses of ego.
Even the acceptance comes with a reality check. When I see a journal calling for submissions after it has published my essay, I feel like I have been dumped. I know it was just a one-night stand; still, I gave her my heart. But she has moved on, having her own addiction to attend to.
As every junkie knows, the fix is ephemeral.  It is only days, or hours, before I return to the tweed coat, to the quest for the next fix. Payment is a little piece of my soul. Bit by bit the tweed coat acquires majority interest, and the moment of no return goes unnoticed.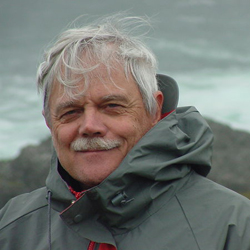 Richard LeBlond is a biologist living in North Carolina, where he worked for that state's Natural Heritage Program until his retirement in 2007. He continues his biological research, and has added travel, photography, and writing.  His essays and photographs have appeared in or been accepted by several U.S. and international journals, including Montreal Review, Kudzu House, Appalachia, Weber – The Contemporary West, and Still Point Arts Quarterly.