Denise Low
1. In a 1970s poetry class I read "Thirteen Ways of Looking at a Blackbird" and begin writing numbered, sectioned poems. I feel very cool.
2. In 2014 I discover "listicle," the word for numbered, sectioned trivia like "Five Ways to Shampoo Your Poodle" and "Eight Origami Folds for Trash Sacks."
3. A fellow writer tells me she makes a good income teaching "How to Write Listicles" workshops. She seems very cool.
4. In 2008 I find one of my early books of numbered, sections poems in a used bookstore, inscribed to a frenemy who decided to purge bookshelves of my presence. Every poet in town goes to this bookstore, so this private gesture is a public announcement. This is a brilliant passive-aggressive coup.
5. In 2009 at the same bookstore I discover one of my earlier books marked up with corrections and suggestions for improvement. In the front leaf I see this assignment was due March 8 for the Advanced Poetry Class. Only on the last page do I find praise—"The image of wheeling Orion works okay." I feel less cool.
6. I do not have the cash to buy this book and burn it. I decide to let it travel through the time listicle known as the calendar until the paper pages are recycled for toilet paper.
7. In 2010 my new book of numbered, sectioned poems appears in the mailbox. It is not yet a book of listicle poems. On the first page I realize the printer cut off the last section.
8. The poem works better without it.
9. In 1984 I take my children to the special collections library to find a review of my numbered, sectioned poem, a sequence of quilt pattern names. The librarian gives the kids free pencils and brings the review. The brief, unsectioned review praises the typography, handmade paper, and abstract designs derived from quilt patterns—but finds my poems "lackluster."
10. The children draw me happy faces with their stubby library pencils after this big Ow-ie.
11. The same day the mail carrier brings a rejection letter for a numbered, sectioned poem.
12. Rejection always comes in listicles.
13. This one says, "The T'Ang poets already did what you are attempting. Give it up." I burn the letter. Later, I regret its loss because when I tell the story, no one believes it is true.
14. It is.
15. In 2015 I realize everything I write is a listicle, snaking through the bowel of Mother Wormhole, like Stephen Hawking's arrow of time only wriggling forward in eel-like motions. Sometimes numbers appear on the page. Sometimes pages are unnumbered, and sectioned episodes of my existence simply disappear into the white field beyond all listicles.
16. I wake up in the pure air of the 1970s and hear blackbirds call my name thirteen times.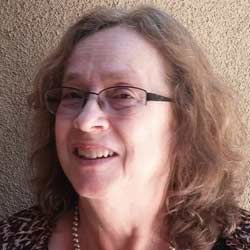 Denise Low, 2nd Kansas Poet Laureate, is author of 25 books: Jackalope Walks into an Indian Bar (forthcoming); Mélange Block (Red Mountain Press); Ghost Stories (Woodley, a Kansas Notable Book; The Circle – Best Native American Books); and Natural Theologies: Essays (Backwaters Press). Low is past president of the Associated Writers and Writing Programs board. She blogs, reviews, and publishes Mammoth Publications. She teaches professional workshops as well as classes for Baker University's School of Professional and Graduate Studies. She has British Isles, German, and Delaware Indian heritage. Her MFA is from Wichita State University and PhD is from Kansas University. Find her online at www.deniselow.net.