Austin Lange
Recently, I found myself living in a college dorm again. In a bunk bed.
For a week in June, I served as the conference and workshop leader for the Young Writer's Conference for the Edgar Allan Poe Museum in Richmond, VA.
I realized that going into this,
1) I'd be living in a dorm for a week with my students and also serving as a RA (Resident Assistant); and I was reminded of how much I felt my RA in undergraduate school gave me that look on the elevator in the mornings when I knew she could sense I was hung over and silently judging me for my new pink striped hair. I was secretly overjoyed to now be the one to enforce that look.
2) These are teenagers! They think they already know everything! Will they have a secret lingo I won't understand?
From the start, I stuck to my literary game. I had five days of workshops and discussions planned out and I was ready to take these kids on the heavenly train of Poe and other writers that I felt were godly. After meeting with a well-known editor from a Virginia based literary journal on the first day of workshop, the students sat motionless, adjusting their bandanas and reapplying their lip glosses. There I was waving my arms around with questions about the in and outs of a journal I admired while my students sat hungrily eyeing their iPhones for Instagram likes.
After the first workshop plenary, I reminded myself that I had a room full of fifteen writers who wanted to be there. I knew then that boredom wasn't really the reason the questions weren't coming during the first Q&A. I told each to look around the room at one another and reminded each of the unique opportunity that they were a part of for five short days. "This is our community," I said. "We're all here because we're writers." "This is your week to be with a community of people just as strange as you are. Embrace it!" After some of their jitters started to peel away, I begin to notice them loosening up, speaking to one another and finding their own commonalities amongst one another.
Sure, there were challenges during the week that I hadn't prepared myself for:
• Some teens will share accessories ("You look totally epic in my flower crown, I'll wear your neon aviators.") and they change clothes constantly, ("Austin, I need to go back up to the dorm to change clothes, these shoes are just not right.")
• They will make Snap Chat videos for everything.
• Teens will argue to walk two blocks to Chipotle instead of using their dining hall pass for a FREE meal. ("But, there's a fro-yo station in the dining hall with rainbow sprinkles!" I would shout.)
• They struggle to set down their phones. "Okay, guys workshop is starting, please put your phones away." "No, I mean, phone away and off the table. 2 hours from your iPhone is doable, promise."
• They will ask you to play a game that you love and you'll have say No because you're the adult.
"Austin, you have to play Cards Against Humanity with us!"
"Um, I think I'll just watch from this comfy chair and smirk." (For the record, I am really good at this game and I love vulgarity.)
On the last night of the conference, the museum hosted a public reading for the student in their garden. Through the nervous jitters of crumbling their pages between sweaty palms, I noticed right away that I had fifteen writers and fifteen very different voices. As they read, I listened and found their progress from hearing my critiques of their work and their efforts to etch in those changes and new observations from their peers.
Some held paper pages and gripped the podium, while others balanced laptops or iPads and bundled their nerves and energy together to read to the few visitors and their peer community (Mind you, I sat in the back, wiping tears).
In my farewell to them, I realized I didn't have to remind them of keeping base in the artistic community they had started there in Richmond or to use one another for new writing ventures, because it was already happening. The need to belong to their writing group had already dug itself in and given each the feverish desire to continue to support one another. They had demonstrated to me their own need to know more about writing and discovering new writers to read too (I especially loved that when I gave new writer recommendations, the students would iPad or smartphone "bookmark" them for their next trip to a bookstore.)
The point in writing this all down isn't to come off as a sentimental blob, but to admit to myself, that in the end my students came together in a more significant way than just as writing workshop buddies or new Facebook friends, but as young writers looking to branch out together. It seems they adjusted better than my adult self at jumping into a literary circle, at forming relationships and creating a solid foundation for a start to a supportive literary community of their own. Since the end of the week with them, I've had time to process it a little more and realize the admiration I have for them and the motivation it's given me to write a little bit more too.
My students and I made the news, check it out here: http://ideastations.org/radio/news/teens-pursue-literary-passions-edgar-allan-poe-young-writers-conference.
If you need Richmond, VA recommendations for your next road trip, I recommend:
Poe's Pub, 2706 E Main St
University of Virginia Library/Special Collections
The Poe Museum, 1914 E Main Street
Penny Lane Pub, 421 E Franklin Street
Chop Suey Bookstore, 2913 W. Cary Street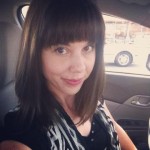 Austin Lange received her MFA from Converse College and currently works in nonprofit. She has work forthcoming in The South Carolina Review and Nebo. She hopes this year to learn paddleboard yoga, to continue supporting Carolina arts, and to make progress on her novel.